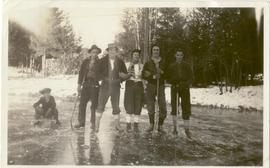 First students at Alta Lake School
Six young people on skates with hockey sticks on Alta Lake. The first students of Alta Lake School. Inscription on verso reads "Some of the kids at the first (original school down at Alta Lake / 1930s (after 1932) / On Lagoon at end of Lake opposite Rainbow LK"
L-R: unknown [possibly Kenny Woods?], Pat Woods; Bob Jardine, unknown, Tom Neiland Jr, Jack Woods."