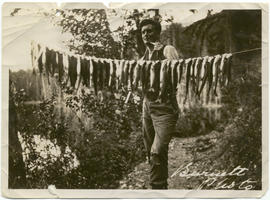 An Evening's Catch in Miller Lake
This photograph depicts a man standing behind a line strung between two trees. The line is hung with a large catch of fish, while the man stands smoking a pipe gazing off into the distance.
Annotations on the reverse of the photograph read: "An evening's catch in Miller Lake in 1908- before railway was built, by Frank Burnett." A separate note reads, "Alpha Lake?"
Burnett, Frank