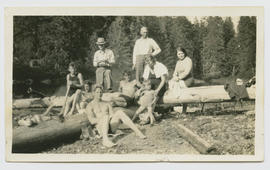 BARR_2011_042-01-003
Item
July 1935

Part of Barr Fonds
Photograph of a group from Parkhurst on a picnic at Twin Lakes (today known as One Duck Lake, above Emerald Estates). Clockwise, starting with the man standing at 12 o' Clock in the white shirt: Ivan Armstrong; Lena Gordon (dark hair); Alison Barr (holding child); Norman Barr (child); George Gordon (dark hair); [Les] Thompson (blonde hair); Denis DeBeck; Keary DeBeck; Alan Payne (in hat).
Inscription on the verso reads: "Picnic at Twin Lakes - Parkhurst, July '35; Keary, Denis, Alan Payne, Ivan Armstrong, [Les] Thompson, George Gordon, Norman Barr, Mrs Barr, Mrs Gordon."