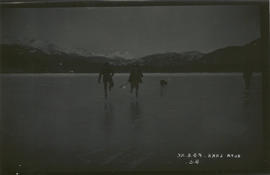 Sewall and Jean Tapley Skating on Alta Lake
This photograph shows Sewall and Jean Tapley skating on Alta Lake. Also in the photograph are an unidentified man and a dog.
This photograph appears to be in a stage for making a postcard out of the original image. It is a mirror image of 1986-0037- Philip and is very dark. White 'mirror' writing reads "Alta Lake, P.G.E. Ry., B.C.".