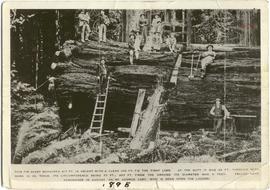 CA WMA PHILIP-3-1986-1072
Pièce
1895

Fait partie de Philip Fonds
Postcard of several people posing on a felled giant fir tree. Caption on postcard : "THIS FIR GIANT MEASURED 417 FT. IN HEIGHT WITH A CLEAR 300 FT. TO THE FIRST LIMB. AT THE BUTT IT WAS 25 FT. THROUGH WITH BARK 16 IN. THICK. ITS CIRCUMFERENCE...