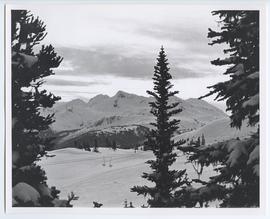 Old Green Chair Through the Trees
This photograph shows a view of two lifts, identified as the old green chair (closer to the camera) and the blue chair.
Written on the back of the print in pen is "D. Gardner".
Notes in pencil on the reverse of the print read, "Taken from Pika's now location gr 1 (old safety bars) & blue," and "Gr 1 only (old foot rests)".
Gardner, D.